The turnaround time is influenced by four factors:
Your choice of service; regular service or express service

Your choice of shipping; standard or express shipping

The medium of your painting

The size of your painting
The time-frame can be as short as 12 days with help of express service and express shipping. Regularly, it takes about 28 days, give or take a day or two.
The following turnaround is from the day you place your order to the day you receive it at your door.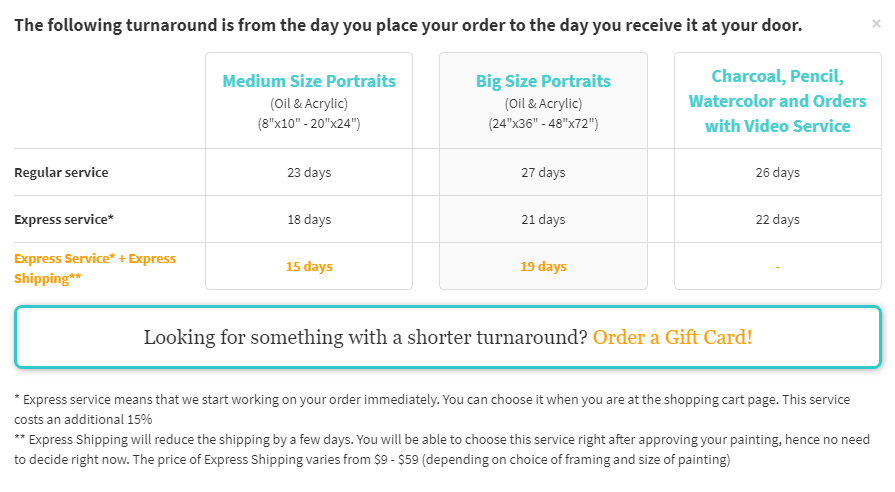 Medium Size Portraits
(Oil, Acrylic, Pastel, Charcoal & Black pencil)
(8"x10" - 20"x24")
Big Size Portraits
(Oil, Acrylic, Pastel, Charcoal & Black pencil)
(24"x30" - 48"x72")
Color Pencil, Watercolor and Orders with Video Service
Regular service
26 days
28 days
29 days
Express service*
19 days
21 days
22 days
Express Service* + Express Shipping**
12 days
13 days
-
Medium Size Portraits
(Oil, Acrylic, Pastel, Charcoal & Black pencil)
(20x25cm - 50x60cm)
Big Size Portraits
(Oil, Acrylic, Pastel, Charcoal & Black pencil)
(60x75cm - 120x180cm)
Color Pencil, Watercolour and Orders with Video Service
Note: Express service means that we start working on your order immediately. You can choose it when you are at the shopping cart page. This service costs an additional 15%.
Express Shipping will reduce the shipping by a few days. You will be able to choose this service right after approving your painting, hence no need to decide right now. The price of Express Shipping varies from $19 - $69 (depending on choice of framing and size of painting.)